about me
Hi, I'm Christina, and I am a casual artist. I have lot's of interests and enjoy using lots of mediums. This is my second website and I intend to post new projects here on a casual basis. (You can visit my first website to see my earlier artwork) Scroll down for more information about me. I hope you enjoy this site.
For those of you who like to read, here is a little more about me: I have proclaimed myself a casual artist because I prefer to be creative without the pressure of a structured/professional practice. I created this site to reflect my genuine creativity.
I have an day job that I like, and in my free time I create things and explore different interests.
I have a bachelors degree, majored in studio art, and focused primarily in ceramics and metal smithing. After college I focused on painting. I recently started playing guitar and I have been dabbling in HTML and CSS for a few years.
I love family, friends, nature, yoga, spirituality, healthy food, music, art, science, beauty, gardening, writing, photography and lots of other stuff.
I am not sure how this site will evolve, but the freedom of having my own space to do whatever I want, however I want, is pretty exciting to me.
My hope is that you will enjoy this site and get some good energy from it.
Peace,
Christina
thoughts
7/2/18 Getting organized this morning. It's a beautiful day.
5/10/18 Art 4 Shelter was an exciting event! So happy that my pieces sold.
4/11/18 Loving the morning sun today.
happenings
5/9/18 Art 4 Shelter
Wednesday, May 9, 2018 Minneapolis Institute of Art The Art 4 Shelter benefit for Simpson Housing Services is an exhibit and sale of original artworks on paper by emerging and established artists. Featuring over 1000 original works of art on paper 5″ x 7″ works – $35 each | 8″ x 10″ works – $90 each Benefit Sale Preview: 6:00 – 7:00 p.m. Art Sale: 7:00 – 9:00 p.m. Artwork will be refreshed throughout the evening.
most recent project
Here is the artwork I donated to Art 4 Shelter.






project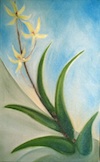 This painting is for sale $275 | contact me to purchase | medium: water soluble oil paint on canvas | 21"x13"